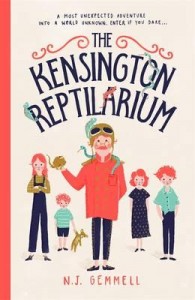 For a long time, they were left to their own devices – able to run wild and free in the Australian outback. Then, sadly for the Caddy children, they receive news that not only their father is missing, but also that they are to be transported to London to live with their uncle because of this.
As they discover, postwar London is a vastly different place to their homeland. Also vastly different is the response of their uncle to their arrival as his family. Four grubby, wild kids from the outback are not what the reclusive Uncle Basti expects to house and care for in his London abode.
Then again, Uncle Basti's London abode is not exactly what the four grubby children expected either. The fact that it houses a personal collection of snakes and other reptiles in the heart of London is also quite surprising.
As kids from the outback, who have been very much left to their own devices since their mother passed away, Kick, Scruff, Bert and Pin are bold and united – characteristics which see them overcome their uncle's initial rejection when he flees his house.
As you would imagine, Uncle Basti is quite eccentric. Most of the characters in Nikki Gemmel's first children's novel are. Kick, as the nominal mother to her siblings, is wild and unruly – and her appearance reflects this; her character strong and protective. Pin, as the baby of the family, brings the elements of innocence and need to which his brother and sisters respond. The middle children, Scruff (Ralph) and Bert (Albertina), round-out or square-up the family as needed, while they endeavour to make the most of their strange situation in London. They provide important support to Kick when it almost becomes to much for her.
Family is important. What family means to the Caddy children is clear – yet while they don't clearly state it, an adult figure in their life would make it even better. Uncle Basti's family, however, is mainly of the reptilian variety – but for how much longer?
Gemmell's book is fun and curious. Uncle Basti's house is full rooms with surprises and challenges – intriguing to the imagination of readers young and old. Parts of it remind me of tales like Lemony Snickett, Nanny McPhee and others; with struggles, conflict and the hope of a happy ending. After all, when will Uncle Basti stop changing his mind about whether they are able to stay with him or be sent to an orphanage? And what will become of Perdita, Uncle Basti's pet cobra, and the rest of his reptile menagerie? And how will they be able to celebrate Christmas in a strange city in a time of post-war rationing without their dad?
In a letter about her book, Gemmell explained that she wrote this book initially for her children to draw them away from screens, and because "the flame of reading passion just wouldn't ignite". Did she succeed? Yes, they loved it and I am sure there could be many others who might just have that flame lit for them, as they tumble along with the Caddy kids in their Kensington Reptilarium adventure.