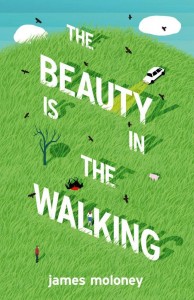 Does the title of a book ever keep you wondering all the way through? Does it capture you more, or less, than the book cover?
I admit that I picked this book up based on the reputation of the author. Australian author, James Moloney has over 40  books for children and teenagers in his writing swag, along with a collection of literary awards. But the title had me puzzled.
It is only gradually that the reader is introduced to the narrator, 17-year-old Jacob O'Leary, who seems to be an average teenager – looking for friendship, his own status and love. What makes Jacob unique is his cerebral palsy (CP).
The Beauty is in the Walking shows how this impacts his daily life, his own thinking and his family's expectations of him. Also, though he has a strong circle of friends, he is sometimes the victim of bullying. And of course, at times, even these friendships can be fickle and changeable when under pressures such as final exams and outside influences.
Set in a fictional country town in Queensland, the story raises issues about outsiders, racism, fitting in and the adolescent search for romance, against the mystery of a series of violent crimes. Jacob shows strength, determination and commitment when he believes that the police have accused the wrong person for the shocking crime that has impacted the whole community.
At the same time, he begins to question, with the help of his outspoken English teacher (Mr Svenson) and friend, Chloe, the limited opportunities set out for him after he completes Year 12. He struggles with the plan his parents have set for him (to remain in Palmerston in the family business), against the changing perception of his own potential.
Students will identify with the angst felt by Jacob, as he ventures timidly into his first romantic relationship. They will feel his pain as he deals with his mother's protective nature, intensified since his older brother, Tyke, has left home. And older students will understand the difficulties and anxieties faced in the final days of high school. (Though students in NSW schools may question the timing of some end-of-year events)
Jacob has a lot to prove – to the community, his parents, his teachers and himself. With determination he will try – can he succeed in his 'walk'?