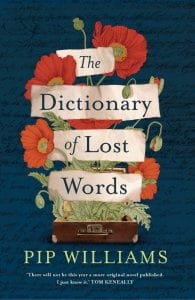 Who decides if a word is important? What should be recorded across time? Sometimes, Esme witnesses a word discarded, sees a word float below the table where the men worked as if it were unimportant – so she begins collecting neglected slips.
As a child of a lexicographer, Esme spends much of her day under this table in the Scriptorium* – the place where her father and a team of men work compiling the first Oxford English dictionary. Even as a young child, she is acutely observant and precociously curious. Her father does his best for her; fostering her inquiring nature. However, in the absence of a mother, she bonds with a young servant from the house of her father's supervisor, Dr Murray, and learns more from a different world perspective.
Set in a time that the suffragette movement was beginning in England and World War was looming, this debut novel from Pip Williams reflects actual moments of history based around the family responsible for the beginnings of the Oxford Dictionary.
Esme is never destined to fulfil the typical woman's role at this time, and her passion for words sets her on an unusual path.
Women's words. Esme sees many of these neglected, left out and ignored in the collation of the dictionary. But why? And what is the effect of that?
"So often, the words chosen by the men of the Dictionary had been inadequate.

'Dr Murray's dictionary leaves things out, Lizzie. Sometimes a word, sometimes a meaning. If it isn't written down, it doesn't even get considered.' (Esme explaining to Lizzie.)"
There are many strong women in Esme's life, some more fortunate than others, though she learns from each of them. Lizzie, her bondmaid; Ditte, her godmother; Tilda, her actor friend; Mabel, her market word-source.
However, words (women's words) remain very significant characters in this story. Collecting 'lost' words, Esme assembles her own dictionary, based around important life events and experiences. These show the power of language and the need to recognise the importance of all words – not just those used by scholars:
"It is not for you to judge the importance of these words [librarian, Mr Madan], simply allow others to do so." (Esme urging the acceptance of Women's Words in the Bodleian Library.)
Get lost in this tale, absorb the strength of those who inhabit it, and thus, enjoy the melding of history and story in 'the Dictionary of Lost Words'.
Highly recommended for mature readers.