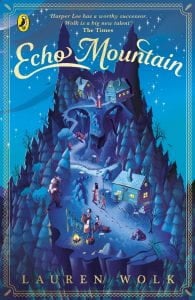 As I delved into family history and considered the troubles my ancestors dealt with, I was also reading 'Echo Mountain', and then reflected on what many people faced in the years of the Depression when they lost their jobs and livelihoods.
Set in times of economic troubles, Ellie's family moved to the mountains for a simpler, more manageable life. Life on the land. But life is harsh. And then tragedy strikes.
Though Ellie is the middle child and youngest daughter, she shoulders many of her family's troubles. While her sister Esther does her fair share of housework (which she seems to like) it is Ellie who has to complete a lot more 'yardwork' since the accident.
Fortunately, she is an outdoors kind of girl, a trait once encouraged by her father. That, and her desire to find a cure to bring her father back to health, leads her to tracking down Cate, known in the mountains as a hag or witch, but also a healer.
With Cate's instruction and guidance, Ellie uses skills well beyond the normal ability of a 12-year-old girl to heal. But it is not just her father she works to heal – a broken family, a broken woman and wild mountain boy become critical parts of her story.
The circumstances which brought about each person's life-difficulties are carefully woven into this tale from Lauren Wolk, an award-winning American poet and author. (Her previous novel, 'Wolf Hollow', won a Newbery Honour in 2017.)
She provides a good insight into life in the Depression years, as the family battles to make ends meet – building, hunting, fishing and bartering goods with other mountain folk. The tasks Ellie is required to do may have some feeling squeamish, while in awe of her determination and intelligence. The skills of others in the story creating intricate wooden carvings and musical instruments are also something to be discovered along the way (I actually wish there were some illustrations of these).
Ellie learns a lot simply by doing things. There's something for all of us in that. And there's something for lovers of historical fiction and family stories in 'Echo Mountain'.
Do you test out your own ideas just by doing what you think should work (like Ellie)?
How far would you go to help a member of your family?
Do you think we should always accept what we are told about different people?
Recommended 10+