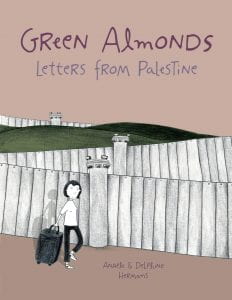 Two sisters show life in different countries and different cultures in this graphic novel by Anaele and Delphine Hermans – a memoir of Anaele's 10-month stay in Bethlehem while volunteering for a youth organization/NGO.
Presented as postcards and letters shared between the two sisters, 'Green Almonds' highlights the living conditions of populations in war-torn zones of the world. At the same time, it humanises these conditions as they accept them as a 'normal' part of life.
Anaele's initial arrival presented anxious times from the word go, as she negotiated customs at Tel Aviv airport in 2008. Her stories about the months that followed illustrate some of the precarious situations faced by everyday people in these occupied territories. At the same time, descriptions of simple joys in life shared amongst friends show things she enjoyed with her Palestinian friends. Cultural differences aside, there is still a place where: "we sing, we laugh, we talk until late into the night".
As the correspondence journeys between Bethlehem and Liege, great contrasts are displayed in the lives of the two sisters. Interestingly, the postcards from Delphine mainly chat about shallow day-to-day life events at home in Liege; Anaele's letters provide greater detail, empathy and passion about her experiences, as she negotiates a world apart from Belgium.
Of course, 'Green Almonds' is also a reflection of the harsh world experienced by those caught in this massive ongoing battle. As a graphic novel, it provides some introduction and insight into a dangerous conflict. Perhaps a more detailed follow-up would look deeper into the lives and relationships Anaele experienced in her time there and since her return to Belgium. (It would be an interesting continuation as she has worked to enable international volunteering projects since her return.)
Green Almonds received the Médecins Sans Frontières (Doctors Without Borders) award for the best travel diary highlighting the living conditions of populations in precarious situations when it was published in France in 2011.
Do you read non-fiction graphic novels?
Do they offer a worthwhile presentation of historic or real-world events? (e.g. the March trilogy which focuses on civil rights in the US)
Can such a memoir make you think about world events and conditions?