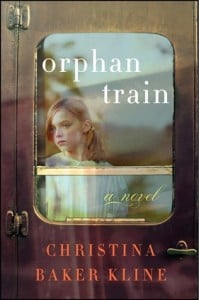 Sometimes we learn things from books which we never knew about. For me, I had never heard of the concept of 'orphan trains' until I read the book 'Orphan Train' by Christina Baker Kline.
Here is some information about 'orphan trains', according to Wikipedia:
The Orphan Train Movement was a supervised welfare program that transported orphaned and homeless children from crowded Eastern cities of the United States to foster homes located largely in rural areas of the Midwest. The orphan trains operated between 1853 and 1929, relocating about 250,000 orphaned, abandoned, or homeless children. which took young children into the countryside to be adopted by country families of the USA.
Baker Kline's tale personalises this experience, and makes us consider what it might be like to be relocated and adopted as a young girl, at this time in history, in a foreign land…
A young Irish girl, Niamh (pronounced "Neeve"), who immigrated from Ireland during the Great Depression, loses her entire family when a fire rips through their apartment building in their new homeland. The authorities see fit to send her on an orphan train for fostering by a family in the countryside – this deemed to be her only choice.
Niamh's tale is told by Vivian – an elderly woman living alone in a large house full of untouched possessions. Her possessions in the attic begin to be sorted with the arrival of Molly – a wayward teen, on her last chances in the foster care system. A community service position helping the elderly woman clean out her home is the only thing keeping Molly out of juvenile detention.
Molly is reluctant to take part in the activity – since she is beyond expecting to get anything positive out of her life; but her boyfriend persists and encourages her to 'do her time' this way.
As Molly helps Vivian sort and revisit possessions, Vivian's story plays out and they find they have more in common that might first be apparent.
In 'Orphan Train' Baker Kline provides characters and families to history, as well as presenting the emotions that could be felt by orphans and ofster children of the modern day. It is a story of both desperation and hope; of upheaval and settling; of desertion and friendship. Within it pages, both Molly and Vivian learn from one another, and the gap between generations dissolves. Past experiences shape us, but the present is how we learn and grow from these.
What things in the past have shaped how you are today?
Is there anything in 'Orphan Train' that surprises you? or anything you might question?
NB. Listening to this tale was a great experience as each character spoke in a different accent, as it jumped between differing locations and times!