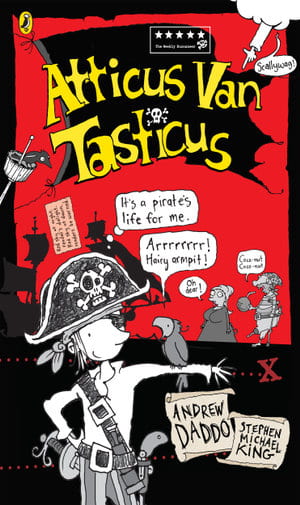 Suspend all normal thinking. Suspend being a normal ten-year-old. Atticus wants to be a pirate!
He may not have known that, on the morning of his tenth birthday; but once he found his gift of choice at his Grandnan's, that's what he wanted to be.
In this rollicking tale from Andrew Daddo, Atticus does indeed become the leader of his pirate ship – once he has gathered together a motley crew. It is a story which will be enjoyed by kids and parents alike with fabulous quirky illustrations from Stephen Michael King, and hilarious asides from many curious characters. (Can you identify a certain world leader among these characters?)
Daddo plays with fun crew members –  Stinkeye, Fishface, Hogbreath, Wrong Wat Warren and more – and fun Aussie phrases like "landing like a butterfly with sore feet" and "(his breath was) worse than a fur seal on a hot day". (Clearly, there is a lot here from his experience of growing up in a household of 4 brothers and 1 sister, living near the sea…)
'Atticus Van Tasticus: It's a pirate life for me' is the first in the series (with The Map of Half Maps also published, and The Treasure of Treasures is due out soon.) All the books are more than just words on a page, so pause and read the illustrations too. And pause and think about the inventiveness of the crew of the pirate ship, Grandnan.
Older readers and parents might like to actually hear thoughts from the author in this interview from last year when Atticus was first launched. (You will need Facebook access.).
And here's a small book trailer introduction to the first book.
A fabulous example of NOT suspending your imagination, and letting it roll about as much as you want. And another marvellous collaboration between author and illustrator, each contributing their own amazing talents to a fun series. Recommended reading for 8+ and their families!
#Who is your favourite character in this series?
## Available as ebook.