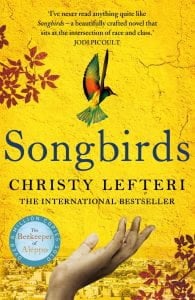 Sometimes, we are blind to things that happen around us. Sometimes, we don't want to know. Sometimes, it is dangerous to know…
Nisha is a maid for Petra in Cyprus. Petra is a single mother, lucky to have Nisha to care for her daughter while she is at work. In some ways their lives have parallels. In others, they are far apart.
When Nisha disappears one night, Petra begins to realise how little she knows about her maid and how much she needs her presence. Her daughter Aliki pines for Nisha – but she is not the only one.
Where can Petra turn for help to find Nisha? Who might know where she went and why? Who are the people in the local community who might have observed Nisha's last moves?
At home, Aliki remains distant and sad. Where is Nisha, the one who has basically replaced her distant mother over many years? As a young child, does Aliki have any hints about why Nisha chose to leave – if she actually did?
Christi Lefteri (also author of the Beekeeper of Aleppo) explores many different relationships in Songbirds – in terms of power and control, love and longing, past and future. It is set in her native Cyprus, and much of what she writes in Songbirds is based on conversations with domestic workers there; workers from other lands seeking to better the lives of their families, even at the sacrifice of distance.
Songbirds will leave you feeling sad, frustrated, confused and annoyed. But at its heart, the characters who look after one another and care for individuals will encourage you to look after and appreciate the little ones in life – even if they are as frail and exposed as the songbirds.