I have been so lucky to receive 2 of the picture books shortlisted for the CBCA awards this year. And both are magical reads.
'Just One Bee' by Margrete Lamond, Anthony Bertini and Christopher Nielsen (ill,) follows the determination of a solitary bee to fulfill its purpose in life.
'In One-bee's dream, the world is full of flowers…'
One-bee faces opposition and negativity when she meets:
'a skinny bee,

a shabby bee

a stay-away-from-me bee.'
What will happen? (This is often what I ask when reading to young children… don't you?)
'Just One Bee' is a story of hope, the power of dreaming, and working for positive outcomes in life; but perhaps one which needs to be shared with meaningful discussion. It is not a rollicking tale, but one that could inspire those who look at the tiny pieces of our beautiful world, providing usually unseen magic and diversity – and thought for our planet. **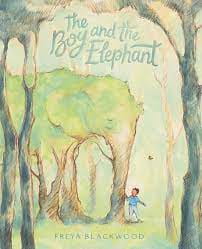 Another mesmerising shortlisted CBCA book is 'the Boy and the Elephant' by Freya Blackwood. Showcasing her illustrations, it is a wordless but powerful book.
It follows a young boy – at first through his waking routines – solitary in a busy landscape – to school – at school – at home. His only solace is in a vacant, but verdant, block of land next door, where nature's friends abound.
Change threatens this solace (what will happen?), when the block is sold. I can imagine asking young readers what they would do, how they would feel, and what this story means to them. Freya uses no words – just intricate illustrations.
The power of picture books.  These, and so many others, transcend younger age groups, but can reach into the young. Put them into the hands of the young, to reach into the hearts of others.
*Anthony Bertini speaks about the value of bees at the end of 'Just One Bee' – what they contribute,  the role they play on our planet, and the current threats to their survival.
** What can you do to help bees survive?
*** How do we save our greenery from 'progress'?
**** Wonder what the other CBCA picture books are like?