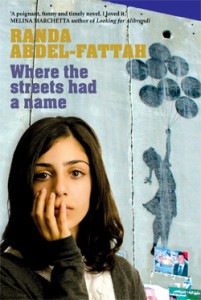 I recall listening to Randa Abdel-Fattah decrying the fact that many books about other cultures are written by those outside the culture. How authentic could such novels be, she asked? She also seemed to indicate that this lead to an urge for her to be the provider of the authentic experience – writing from her heritage from the things she herself knew and understood – as an Australian Muslim of Palestinian and Egyptian heritage.
'Where the Streets had a name' certainly meets the criteria Randa has set for authenticity. It reflects her high interest in Palestinian human rights and introduces the average Australian young adult reader to situations of dispossession, the daily struggles of people living with the Palestinian/Israeli conflict, and life under military occupation.
Hayaat, as a young but determined teenager, centres the story, after introducing her family situation and daily events – which can include curfews, rationing and disruptions to normal routines. As her grandmother, Sitti Zeynab  is ailing/dying, she longs for the homeland she knew – before her family was dispossessed and moved to a foreign place. Hayaat commits to bringing to her grandmother, soil from her homeland. While this homeland is physically only a short distance  away, there are many barriers to Hayaat's mission due to political restraints. But she goes nonetheless, with her Christian friend, Samy, in tow.
To the average Australian teenager such a journey may seem incomprehensible, given the political situation, but with the humour and the silly optimism of Hayaat, Samy and their various encounters, there is much to be considered. And it provides an insight into life in Israeli-occupied Jerusalem – life in 'an open-air prison'.
As an 'Australian-born-Muslim-Palestinian-Egyptian', Randa Abdel-Fattah lives in many worlds. She has always been passionate about Palestinian human rights campaigns due to her heritage. Her work as a lawyer is intricately combined with her authorship, and she is often called upon to talk about all of these things. A visit to father's birthplace, Palestine, in 2000 inspired this book, as the tale of her grandmother's own dispossession became clearer to her. 
There is lots to be learnt from this tale, as Randa grounds it in her in own life story. In her (first) book dedication, she states:
To my Grandmother Sitti Jamilah, who passed away on 24th April, 2008, aged 98. I had hoped that you would live to see this book and that you would be allowed to touch the soil of your homeland again. It is my consolation that you died surrounded by my father and family and friends who cherished you. May you rest in peace. And to my father-May you see a free Palestine in your lifetime.
While this indicates the heart with which Randa has written the book, it also gives hint to the urge she has to present realistic  reflection of life as a Muslim in the global  world today. One reviewer hoped that it would help young readers to:
'grasp the seemingly endless turmoil of the occupied West Bank and Israel' and 'help adults grasp the ridiculous realities of insult constantly faced by residents of occupied Palestine'.  Naomi Shihab Nye, Wisdom and laughter in a child's view of Palestine.The Electronic Intifada, 10 December 2008 Sourced from: http://electronicintifada.net/v2/article10011.shtml
For more about what inspired Randa Abdel-Fattah to write this and her previous books, 'Does My Head Look Big in this?' and 'Ten Things I Hate About Me', visit her web site FAQ page: http://www.randaabdelfattah.com/faqs.html
Do you think it is important for people to write what they really know? or can an author complete a certain amount of research to write an authetic novel?