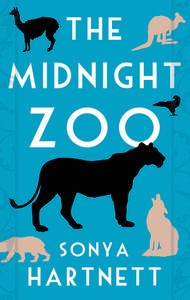 In 'the Midnight Zoo', Andrej and Tomas are wandering through a war torn countryside, alone, with a precious bundle. They have witnessed some tragic events and struggle to comprehend their significance as battle to find food, shelter and safety.
When they come across a forsaken zoo, it is the animals that help them make some sense of their predicament, and the ways of man.
The animals too are victims of the human battle. Left behind, caged and longing for freedom, their voices encourage the boys (and the reader) to contemplate big issues of life, family and survival.
Sonya Hartnett has again produced a moving story, with a combination unusual characters in an unfortunately recognizable situation – experienced by many survivors of war worldwide. There is much food for thought within this tale, as a worthy nominee for this year's CBCA awards for Older Readers.
Hear a review from the ABC Bookshow at: http://www.abc.net.au/rn/bookshow/stories/2010/3055791.htm