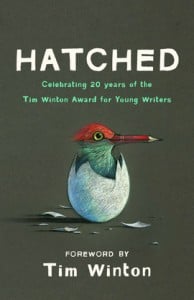 Tim Winton is passionate about writing. As a celebrated author who decided he wanted to be a writer at the age of ten, he is an inspiration for many writers. From a practical point of view, he has also encouraged young writers over the last 20 years having established an award for students in Western Australia.
Hatched is a collection of the award winners, celebrating 20 years of the Tim Winton Award.
In association with the Subiaco Library in his home state of Western Australia, and other sponsors, Tim has been actively encouraging students with the same passion for storytelling which he felt as a child:
'It's a great pleasure to see young people exercising their storytelling instincts. During the twenty years in which the award has been given in my name I've had the privilege of witnessing this stubborn, lovely impulse as it lives on in a new generation. Whether they're writing feverish fantasy or gritty realism these young writers are coming to terms with their language and their lives, using stories to shape or unpack what they know and what they fear and what they hope for.' Quote from: http://www.fremantlepress.com.au/books/newreleases/1370
Hatched includes a great range of stories, from students in middle primary through to upper secondary school, from 5 to 18 year olds. Tales cover many different things, told from the point of view of articulate young Australians. Weird and fanciful, down-to-earth reality, and out of this world concoctions of fertile young minds. Many tales are a reflection of the emotions and experiences of our youth, while others bear witness to their creative abilities.
Luckily, archives of past winning entries in 5 different age groups can also be viewed here.
What an amazing privilege for these young writers! And if their writing skills have continued to develop, what great hope there is for the future of storytelling in its various forms in Australia. Inspiring stuff!