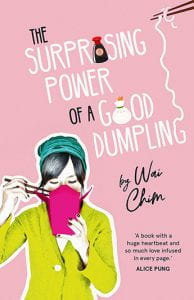 When I first began reading 'the Surprising Power of a Good Dumpling' it made me recall 'Front Desk' by Kelly Yang (reviewed here). Both stories deal with families of Asian heritage, and their struggles to assimilate in a Western culture and daughters battling with their parents' expectations of their school achievements. However, as a novel for an older reader, SPOAGD has more layers and detail.
As the eldest sibling, Anna has a lot of responsibility – especially since there are times when her mother won't get out of bed for weeks on end. Her father seems more focussed on the operation of the family restaurant, and even spends overnights there since it is some distance from home. Thus, Anna, Lily (her younger, smart sister) and Michael (her kindergarten brother) are left to cope as best they can.
Though they recognise that their mother's behaviour is not 'normal', the children are unable, or unwilling to seek help – family pride – and their father appears too weak to act.
Family struggles arise. Michael's teacher wishes to see his mother. Anna's teachers push her to lift her game, as she nears the senior years of school. Previously-loyal employees leave the restaurant for better opportunities. Their father spends even more time away from home, seemingly ignoring his wife's health issues and their impact on the family.
When she goes to help out at the restaurant in the school holidays, Anna meets Rory, who begins work as their delivery boy. Slowly, a vital friendship grows, and Anna is confronted by the struggles that others around her also face.
Dealing with mental illness, SPOAGD highlights how hard it is to take action and get help. In the layers of the story, bullying, suicide, stress and depression are carefully exposed. As a reader, you anticipate some of the key characters opening up to each other, as they identify with similar problems.
But, credit to author, Wai Chim, there is no easy path for Anna, Rory, or others like school acquaintance, Wei. However new friendships and old loyalties form a comforting base for Anna and Rory, as they work through their individual struggles.
The story subtly points out some of the tiny ways in which different cultures critique and antagonise one another – sometimes without even understanding their impact. At the same time, it shows that the nuances of each family's cultural background is important.
As Wai Chim states, the power of own voice stories is important, and books like 'the Surprising Power of a Good Dumpling' provide some interesting insights into different cultures, without lecturing. It's a coming of age story, with lots of ups and downs to keep you emotionally connected to the very end.
Recommended 13+
# Other books by Wai Chim include 'Freedom Swimmer', 'Shaozhen' (a CBCA Notable book for Younger Readers for 2018, set in China) and a number of picture books in the Chook Chook series.
# How important is it that authors represent or write about their own culture?
## As someone who now lives in Australia, born in the USA, does Wai have the credentials to write Chinese 'own voice stories?